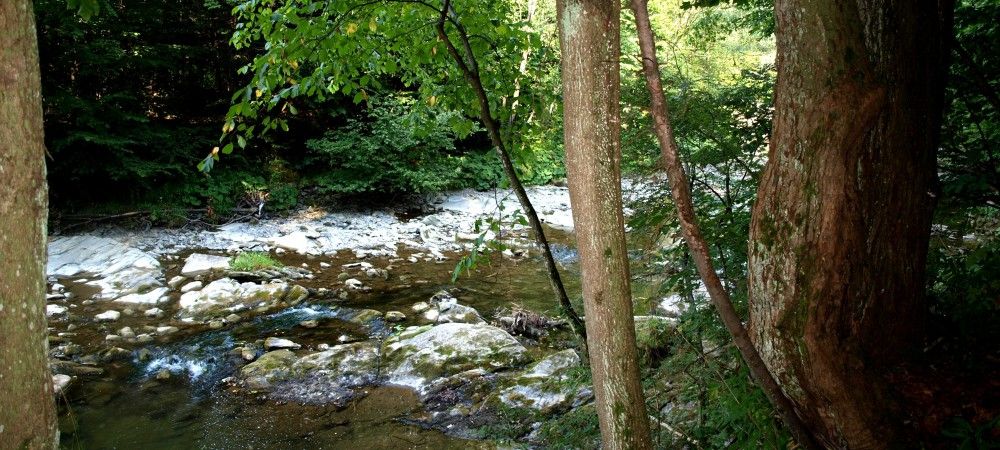 Przełom Jasiołki Nature Reserve
The reserve was established in 1976 to protect the natural tree stands on the area of over 120 ha, covering the Jasiołka River valley between Ostra Mountain and Piotruś Mountain. There are 15 plant communities, including the rare mountain sycamore forest with hart's-tongue fern and the fertile Carpathian beech forest with perennial honesty. The flora of the reserve comprises 282 species of vascular plants, and its fauna is characteristic for the lower sections of the Carpathians.
---
There is a well-marked educational trail leading through the reserve, which takes you along the remains of the bloody battle of the Dukla Pass during the Second World War. You can still clearly distinguish the heavy artillery positions and birch groves in places where the original forest had been cut down by the fighting armies to make it possible to fire to the west and south. Many old trees still live with shrapnel lodged in their bark and restoring a healthy forest in this place will take at least several dozen years. As you follow the trail, you will also see a sycamore forest with hart's-tongue fern, where the dominant species is the sycamore, with some beech and wych elm. The numerous ferns growing here are a curiosity, as hart's-tongue fern is the only fern with full leaves. It grows in humid and shaded places with slate or calcareous rocks in the substratum, and is under strict protection as it is very rare, especially in lowlands.

The trail takes you on down the hill, and the descent is made easier by the old stone road traversing the slope. It was built by the Lemko people, who used to inhabit those parts. The road was to make it easier for them to source wood and to graze cattle on the meadow by the top of the Ostra Mountain. The road was called Werchowa Put by the Lemkos and is overgrown on both sides with hart's-tongue fern. Following the road, you enter the broadleaved forest rich in protected species. There are beeches, sycamores, firs, wych elms, and you can also spot hornbeams, lindens, grey alder and common ash. The forest floor is home to honeysuckle, elder and hazel, and in the undergrowth you can notice sedge, sweetscented bedstraw, yellow archangel, dog's mercury and asarabacca. The last part of the trail takes you through the Jasiołka River gorge, between Ostra and Piotruś. The river has created here a deep valley, in places as narrow as 20 metres, with stone walls up to 30 metres tall.

fot.: M. Sanocka